This article ( second update ) will cover a custom installation type for AVG Antivirus Free Edition on a computer running Microsoft Windows. Before any installation attempt, download AVG Antivirus Free on your computer ( setup file ). Once you finished the download, locate the setup file, it should look like in this picture.



Open the setup file, wait a couple of seconds or minutes - the files will be extracted - you should see a similar window.



The ``AVG Software Installer`` will be your guide through the installation process. The first window will allow you to select the language, in this example - English.



The well-known License Agreement window, make sure that you read all the terms, if you agree click on ``Accept`` button.



This is the window that allows you to choose between ``Express`` and ``Custom Install`` setup type. Due to more flexibility, I will choose ``Custom Install`` and I will disable the ``AVG Secure Search`` feature. If you hate this feature and you want to install this antivirus without the AVG Secure Search - that`s how you do this. When you install the antivirus - don`t select this feature. Although I hate toolbars I will install the AVG Security Toolbar and decide later if I want to keep it.



Now you`re at the component selection section. It allows us to configure the antivirus by disabling any unnecessary service. Unless you really know what you`re doing, my advice is to leave them as they are. Click on ``Next`` to continue.


Depending on your computer configuration it will take a couple of minutes. There is also a note coming from installer:

Installation can take a few minutes. Feel free to do other things while you wait. Please be aware that the installation does close your browser tab so we do not recommend working online during the install. Click the Minimize to taskbar button and we will notify you when completed.


We`re almost ready, unless you have a good reason, leave the first option enabled ``Product Improvement Program``. The other two options are facultative - I didn`t want to receive emails from AVG and I answered at their question. Once you`re ready click on the ``Finish`` button.

You should be able to see the AVG Antivirus Free interface running for the first time. The main purpose of this article was to show you how to install AVG Antivirus Free but I believe that if would be very useful if you will update the antivirus database and perform a full system scan right after this installation. Make sure to keep your antivirus updated and perform regularly scans and you should be fine.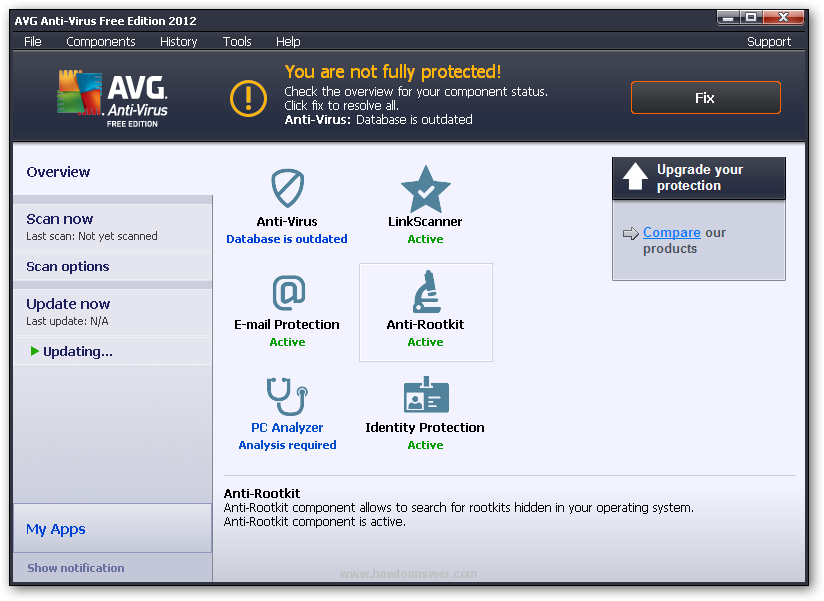 Tweet